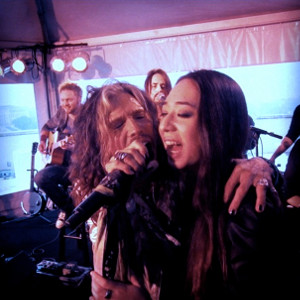 Since earning one of only 12 spots at the 'invitation only' 2012 Young Writers Conference at ASCAP, Mindy Braasch has been on a roll.
In March of 2014, Mindy Braasch opened for Aerosmith frontman and 'American Idol' judge Steven Tyler at the annual meeting of the National Music Publishers Association. After Mindy finished her own set, Tyler pulled her back up on the stage to help him sing his smash hit 'I Don't Want to Miss a Thing'.
Mindy was recently chosen by the NMPA to help represent songwriters everywhere by doing a dozen performances in Washington D.C. for senators, congresspersons and their staffs in support of the new 'Songwriters Equity' bill. The January 20, 2014 issue of Billboard Magazine features a picture of Mindy meeting with NSAI Executive Director Bart Herbison in conjunction with this event.
When she's not playing for congress or jamming with Steven Tyler, Mindy fills her time playing, writing and recording. She has been a mainstage act at the Pensacola Beach Songwriters Festival, Tinpan South (Nashville), The Kickin' Summer Bash (Pomeroy, OH), The Sternwheeler Festival and the Lobsterfest Music Festival (Athens, OH) and she's a regularly featured performer at Nashville venues like the legendary Bluebird Café, Kimbro's, Indigo and the Nashville Unleashed show.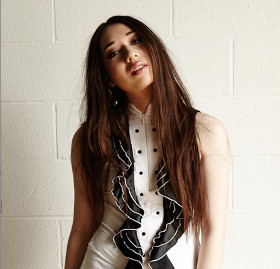 In the studio, she works with Grammy nominated producer and #1 hit songwriter Sal Oliveri, whose credits include Chris Martin (of Coldplay), Lady Antebellum, Sheryl Crow and many others. In addition to Oliveri, her co-writers include Shanna Crooks (Kelly Clarkson, Demi Lovato), Victoria Shaw (six #1 hits) and Kerrville Award winner CJ Watson.
"Mindy Braasch is the most unique talent I have heard in years. Her vocal tone will make your toes curl." – NSAI Executive director Bart Herbison
"Mindy may very well be the hardest working person I know in the music business. All the talent in the world (which she has) doesn't do you any good unless you're smart and focused and work hard (which she is and she does). – CJ Watson, bestselling author and award winning songwriter
"Mindy Braasch is proof that great pop/rock artistry develops and exists right here in Music City.  Mindy's darkly veiled vocals are colored with shades of Cher.  Her truthful to a fault lyrics, create songs with a jolt of Janis and a punch of Pink.  Mindy is a multi-talented composer, musician, songwriter, and artist with the potential for a legendary career that would impact generations.  Mindy's uniquely identifiable alto voice stands out from today's current generation of acrobatic pop female vocalist. Mindy's voice and music is like a powerful, towering tornado of talent headed straight for your heart." – Global Songwriters Connection President Sheree Spoltore